One of the most efficient and reliable HVAC systems for your building is a Water Source Heat Pump (WSHP). Simple in design, a WSHP rejects heat in the cooling cycle through a Cooling Tower loop. The water loop is piped through a building and each Heat Pump is connected individually.
Each unit is individually packaged and relieves the stress of having the building rely on one HVAC unit to control the entire building. Water Source Heat Pumps can be easily zoned and conveniently installed either above a ceiling or in a closest. Each area it serves can have a conventional thermostat or even have integrated building controls added, which can provide even more energy savings.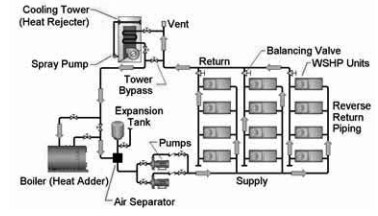 These systems can also heat the spaces they serve by injecting heat into the water loop rather than rejecting it during a cooling cycle. In the shoulder seasons when some units will be heating or cooling, the individually zoned units will be able to accomplish both. Therefore, this type of system is ideal in the design of a hotel, office building, schools, apartments.
For our service technicians, this type of a system is a breeze to work on. With the packaged design, technicians can access all components in one convenient location. If a major component needs to be replaced and more space is required to complete, then these units can be isolated from the building loop and removed from a ceiling or closet within an hour.
The effortless design also allows for a longer shelf life for this style of system. WSHP's tend to operate efficiently for 15 to 20 years without major complications. When the time comes to replace the unit, then there are many manufacturers that have designed their new Water Source Heat Pumps to be easily retrofitted to match your existing equipment.
With all of the energy savings and ease of use that Water Source Heat Pumps provide, building owners, tenants, and end-users have a HVAC unit designed around their needs while keeping cost down with a balance of energy usage.